New Launch: Kids STEM Lab
Enlightening Edutainment game for Kids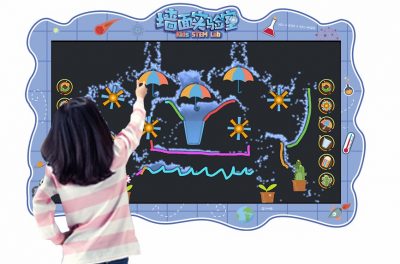 Water flow, Marble, Light reflection
Open type graffiti, element interaction
Various scenarios, learning through play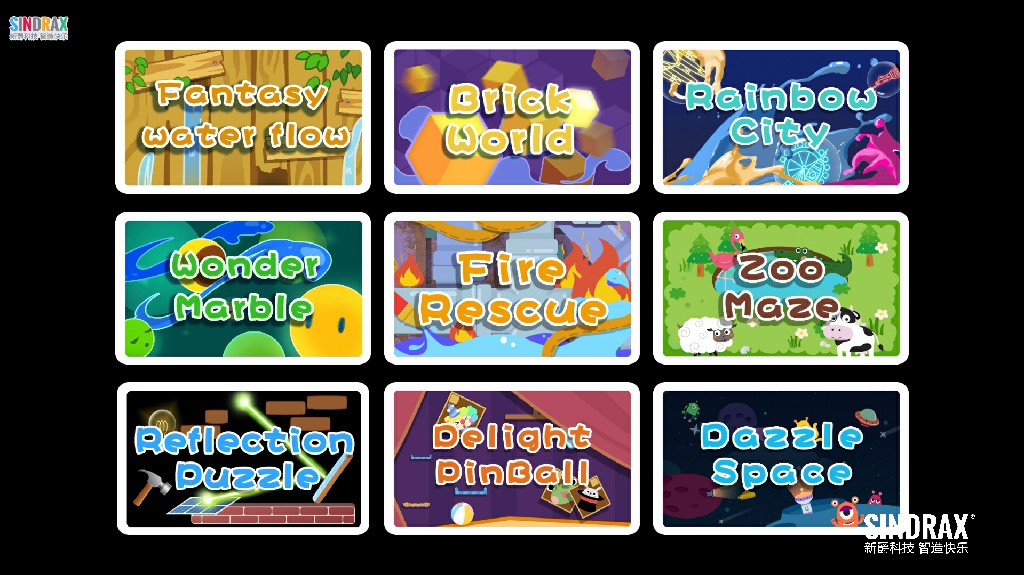 Today we are going to introduce our latest interactive game— Kids STEM Lab.
"Kids STEM Lab" is a gamified multi-touch edutainment product for 2~8 years old children. It allows kids to freely create structure and guide water flow or balls to generate various effects, which develops kids' hands-on skills, creativity, and scientific thinking skills. It consists of 9 different multi-player STEM games.
Now Kids STEM Lab has 9 themes. Each theme shows a unique world and will give children different interactive experience.
The product's software is designed specifically to 2~8 year-old children according to early childhood education concepts. There are 9 different categories of STEM games which promotes unstructured learning. The Product helps develop curiosity and creativity by allowing imaginative freedom within unstructured learning programs.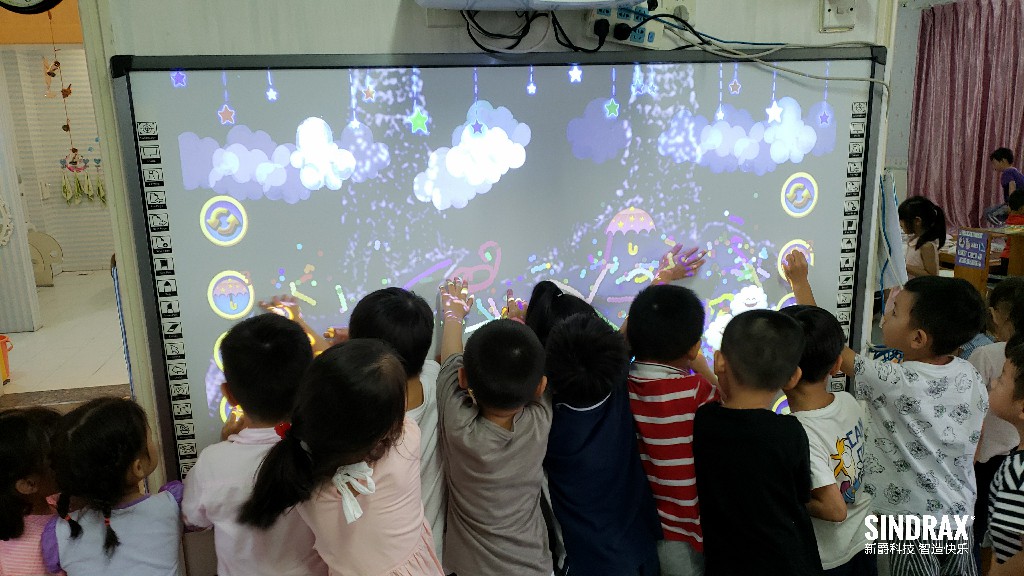 The game themes are specially designed according to the different ages and different periods.
2 -3years old—Unstructured Learning Games
In this age, children are in their sensitive periods of visual senses and tactile senses. The games are designed according to unstructured learning theory, which ideally combines play and learning. Unstructured learning not only helps cognitive development, but social and emotional development as well. Instead of sitting on a mat, unstructured learning encourages children to use their senses to discover the world around them, sometimes with the assistance of their friends and classmates.
Magic Water Flow, Brick World, Rainbow City are suitable for the children aged from 3 years old. The themes are mainly about guiding the water flow to the places where flowers bloom.
Children can use various of different cute props to change the direction of water flow, creating interesting interactive effects.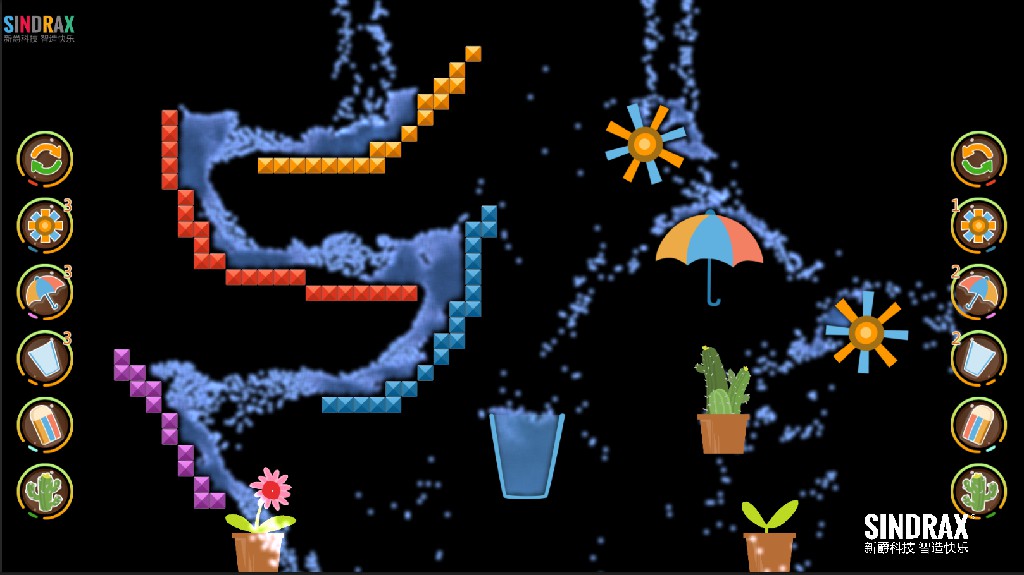 For Brick world, it is a theme in which all the lines are formed by little bricks. The theme can stimulate children's creativities and imaginations.
Rainbow City
Rainbow City is a theme that contains four colors of paint. They flow from the top of the screen. Children can draw lines to guide the paint. If two or more colors of paint are mixed, new color will be generated. In addition, children can also drag the crystal balls of world- famous buildings under the flows and make them change into different colors and build a rainbow city.
4-6 years old— Combine Freedom and Rule Together
In this period, children are in kindergartens. And their rule consciousnesses are forming. It is beneficial to children to combine some rules in their free playing.
Wonder Marble, Delight Pinball, Dazzle Space can help children develop their logical thinking and creativity better.
Wonder Mable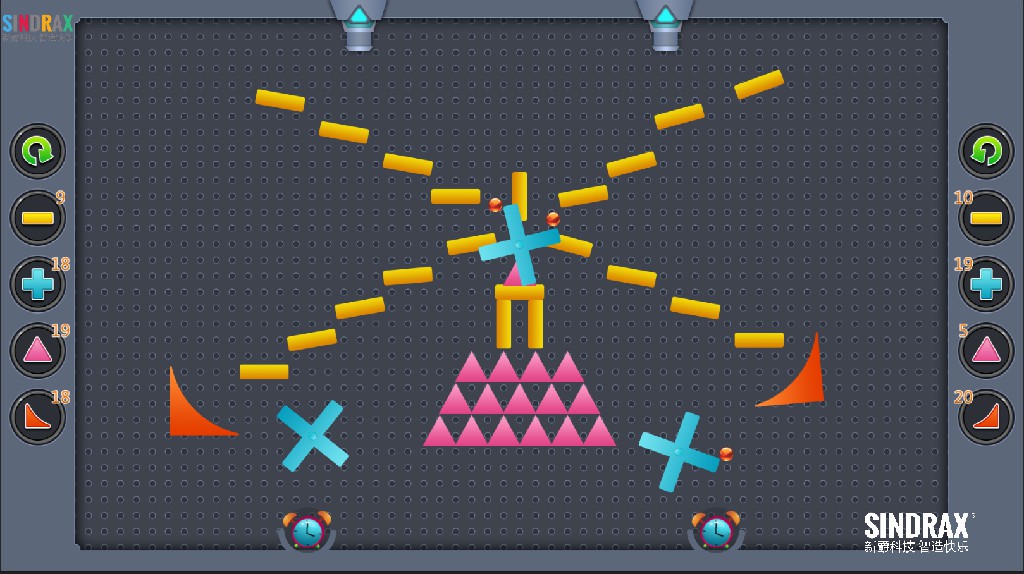 Wonder Mable theme is an amazing theme in which children can use shaped blocks to control the routes of marbles. Children also need to use their knowledge of law of motion and make the marbles knock the clocks. The whole process develops children's logical thinking.
Delight Pinball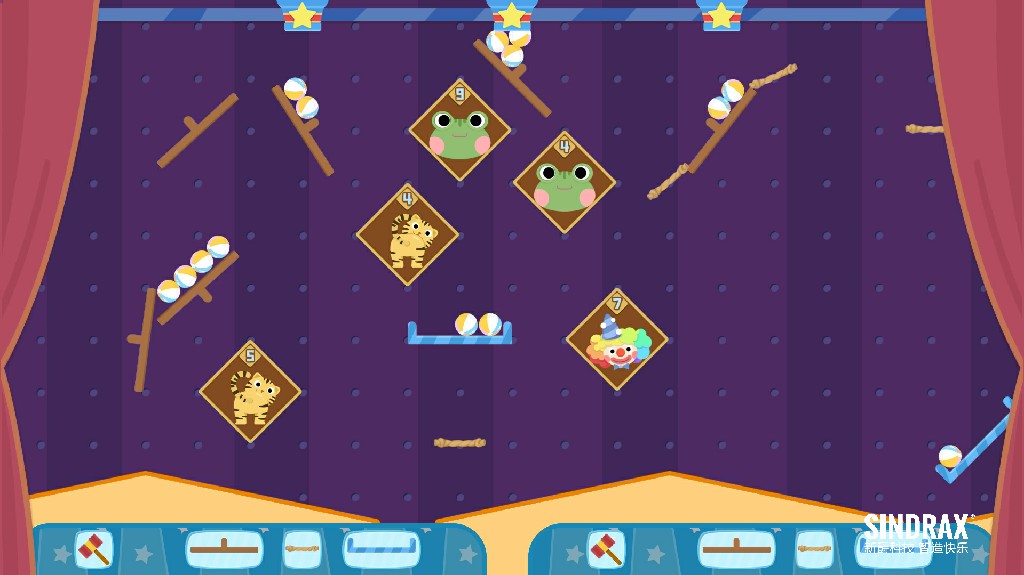 The art style of this theme comes from circus. Children can explore some laws of physics through playing and watching different interactive effects of elastic force.
As is shown on the picture, there are numbers on the characters. When the pinball hit the characters, the numbers will decrease. And that will help children develop their early mathematical capabilities.
Dazzle Space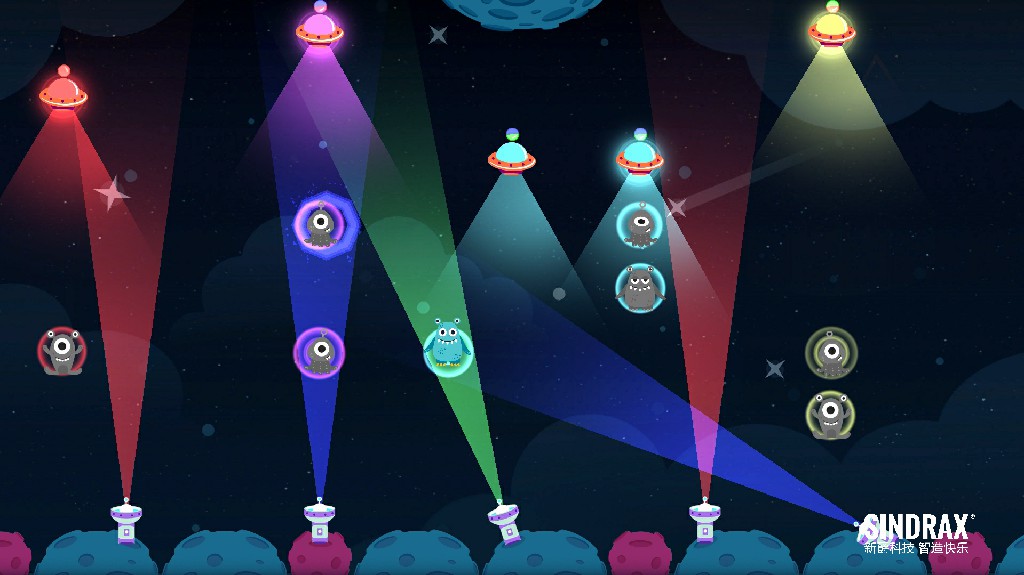 This theme is to teach children about the three-primary colors. Through exploring the combination of three colors—red, green and blue, children can create many different colors. Every little monster has a color. They will be absorbed by the UFO if they are shot by the lights in the right colors.
Above 6 years old—Finish the Mission with Rules
In this period, children are in the pre-school stage. In order to help them enhance their critical and logical thinking abilities, we provide 3 themes that can integrate the lives and games together and teach children knowledge while playing.
Fire Rescue
This theme simulates the scene that firemen are putting out a fire. Children need to use different kinds of pipes to lead the water to the fire engines and put out the fire.
Zoo Maze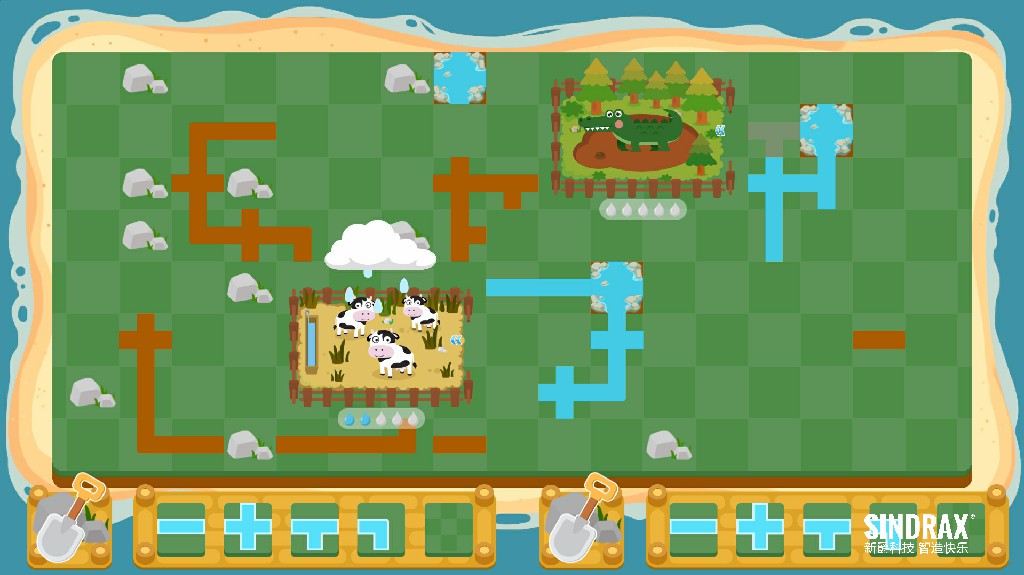 In this theme, children need to connect water channels between the ponds and the animal areas.
Reflection Puzzle
Children need to put the mirror in correct positions with proper angles and guide the light to the solar panels and light up the bulbs. This theme aims to teach children the law of reflection.
We hope that every child can have fun with our Kids STEM Lab Interactive Edutainment game and get some inspirations and enlightments while playing the games!
You can browse the demo video of the Kids STEM Lab.